I am excited to announce another LARGE link up that I am participating in! You may have noticed the Spring Fling button on my side bar a few days ago, so here are the details!
On April 2nd, come back here (or to any of the SEVEN particpating blogs) to link up your Spring related posts. There aren't really any rules, you don't even have to follow our blogs to link up (but I mean, why wouldn't you? We are way cool.). What can you link up? DIY's, home decor, beauty, fashion, recipes, giveaways, shop items, whatev. What's even cooler? There is a huge giveaway that will go live the day of the link up. HUGE.
Here are the other blogs who are participating:
Grab the button and share the news!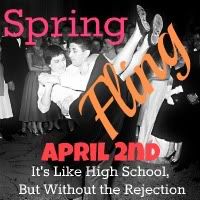 Now, it's time for Worship Wednesday with
Meredith
!
Hey Feeding My Temple Readers! I'm so excited to be guest posting today on Allison's blog! We have so many things in common, it's been so fun to get to know her a little bit!
Usually on Wednesdays I do "
Work it Wednesday
" over on my blog, where I talk about staying healthy and active. I also post exercise videos with different workouts you can do at home. However, today I'm taking a break and switching gears to Worship Wednesday.
I grew up an active member of the LDS, or Mormon, church. However, I've decided to take a new path and explore things that provide me peace and joy, which I feel are at the heart of any form of worship. Through a lot of introspection and experimentation, I've discovered that things that bring me back to center and provide me with peace are not necessarily the normal things.
I love yoga. I try to practice it at least once a week, if not more. I find that by pushing myself to do something out of the norm and different, helps me to understand my own personal boundaries and just how much I really can accomplish if I decide to do it.
Just this last week, my husband took me on a small, yet steep, hike. It was well outside my comfort zone, but I knew the view at the top would be lovely, as well as the company. I pushed myself. I climbed the side of that mountain and I reached the top. We walked around a little bit and explored a path that was actually up there. It was so peaceful to overlook the valley and look down on what I had just climbed up. I felt accomplished. I felt at peace. That brought me back to center.
So, on this here Worship Wednesday, I ask, what brings you back to center that may be out of the norm? If you're not quite sure, I challenge you to explore yourself and look to find something that is outside your comfort zone, but brings you peace.