It is finally here! The Find Some Love Fest! This link-up is all about YOU! This is an opportunity for you to showcase your Valentine's Day crafts, home decor, shop items, tutorials, beauty, style, ideas, thoughts, giveaways, you name it-whatever makes your blog about YOU!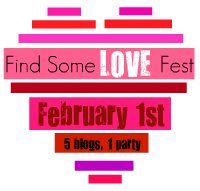 Here are the details:
Add your link below. The link must be to a specific post, not just your blog. The number of links you can add it not limited. We welcome an unlimited number. Once you link up with
ONE
of the participating blogs, your link will show up on
ALL FIVE
blogs! One easy step and you are showcased in
5
different places! Also, don't forget the other amazing part of the Find Some Love Fest! A mega giveaway! Follow the easy instructions below for up to 17 entries!
17
!!!
Just now hearing about the Find Some Love Fest? No worries. The link-up is live until Valentine's Day! So if you are just now finding us or if your post isn't quite ready, you have until then to add it! The giveaway closes in one week, and I will let you know, you can Tweet about the Find Some Love Fest daily (read: additional entries)!!
Remember to visit other links in the list! Everyone is looking for some love!
a Rafflecopter giveaway