Welcome to our first Birchbox Beauty Bash!
Vintage Gwen
and I are so happy that you are here!
Birchbox
is a great way to try new beauty products without spending a ton of money! For $10.00 a month, you will receive a box filled with the latest items to hit the beauty world.
Have a subscription to
Birchbox
? We want to see what goodies you received this month! What did you think of them? Which are your favorite?
Birchbox Beauty Bash is not limited to just Birchbox subscribers! This monthly link up is open to all things beauty! Tips, tricks, DIY's, advice, reviews, you name it!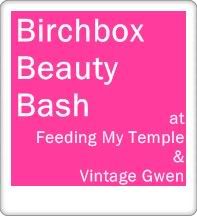 Rules:


*Link up your Birchbox posts and anything beauty related such as beauty advice, tips, reviews, tricks, secrets, DIY/handmade products, tutorials.
*Link to a specific post, not your homepage.
*Follow myself and Jennifer and post the party button somewhere on your blog.
*Visit others and have fun!
***Neither Jennifer or I have been compensated by Birchbox. This is just for fun!***