I am excited to start my first month with sponsors! I'm even more excited to call all three of them fellow Oklahomans! Please see my
sponsor
page for more details on swapping in December.
First up-
Pineapple Lily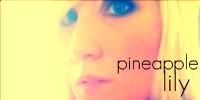 I would have to say that
Melissa
was my first blogging buddy (aww, sweet, I know). I really look up to her blogging style. She keeps it classy and unique and I like that. She is 100% transparent and genuine. In addition to being a fabulous blogger, she is a mommy to 3 kiddos! 3 (with 3 of the cutest names)! If that's not admirable, I don't know what is. Oh! And totally random, but she married a guy I went to high school with! Small world, friends, small world.
Stay tuned for my blogger interview with Melissa. In the meantime, head on over to
Pineapple Lily
. It's a lot of fun. :)