What I am about to share with you is very dangerous.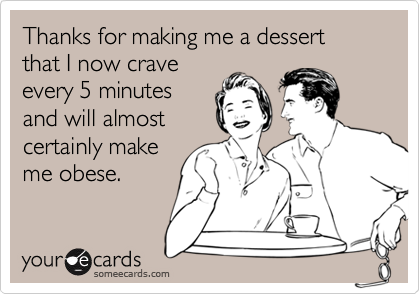 But not as dangerous as my brownie for one…not to be mistaken by the brownie in a mug, gross.
I think that for those of us who love Fall, we can excitedly say we love cinnamon. Maybe that's just me. So when I found myself craving a warm cinnamon dessert this evening, I headed for the pantry. I cheat a little with a can of apple pie filling I already had on hand, but you can certainly use fresh apples (see below). This recipe was just a spur of the moment dish and is no culinary art by any means…but it gets the job done.
5 Minute Apple Crisp for One
Prep: 5 minutes (duh!)
Makes: One serving of apple crisp
1/4 cup apple pie filling or
Fresh Filling:
1 apple, peeled and thickly sliced
½ teaspoon cornstarch
Crisp Topping:
2 tablespoons butter
2 tablespoons brown sugar
2 tablespoons flour
2 tablespoons oats
1 teaspoon cinnamon
In a microwave safe bowl, add canned pie filling and cover with a paper towel before microwaving for one minute.
Or if you would like to make the filling from scratch follow these directions
-
In a small mixing bowl combine sugar, cinnamon, nutmeg, and cornstarch. Add sliced apples and with your hand, massage the dry ingredients into the slices until all the dry mix is used up. Place apple mixture in a microwavable cereal bowl, cover with plastic wrap (folding some of it back to vent it), and microwave for 4 minutes
Meanwhile, in a small pan melt the butter and add remaining ingredients. Stirring continuously for 3 minutes until fully cooked/fried. Watch the pan
carefully
as this crumble topping will burn easily!
Please visit my
link parties
page to see who I linked up with this week!
Pin It